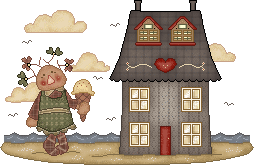 .:: TERMS OF USE ::.
Failure to read my TOU is your fault, not mine.
If I feel my TOU are not being followed and respected this will result in loss of your membership.

:: MY CREATIONS ::
*Please do not steal or copy my work. I like it to be unique from others.
*Any work of mine that may resemble someone else's is purely coincedental.
*Please do not use my color palettes in your creations. I know color palettes are not copyright, but I like my work to be different from others. I want people to look at my tubes and know that it is a Country Pixel Paws tube.
*All of my 100% originals, lines and tubes that I have colored, must be credited and linked back to Country Pixel Paws and your membership logo must be placed on your memberships page or somewhere that it is visible.

:: GENERAL ::
*You are bound to these terms of use whether you read them or not.
*I have the right to deny membership to anyone at any time without reason.
*YOU DO NOT NEED A WEBSITE TO JOIN*
*You cannot claim my work as your own
*I have the right to change my membership prices at any given time
*I have the right to change my TOU at any given time without notice
*This is not an as is tube site! If you are looking for as is tubes, please go elsewhere! As is tubes & outlines are very saturated on the web these days so you can find them at just about any site out there! Everything here is created from my own creativity and I do not purchase as is. There are very few times that I will. I work hard to bring my members creations that are not found anywhere else, than to chuck my site full of the same things that you can find at a dozen other places.

:: MEMBERSHIP TERMS ::
*Once you have sent payment, and your logo, username and password has been issued to you there are no refunds
*Any special licenses, gifts purchased during pixel parties, purchaseware or anything of this nature, once payment has been received you forfeit your right to a refund.
*Your membership is for YOU ONLY. You may not share your account with any of your friends. If you share your account with others, it will result in termination of your membership.
*Upon joining my site your logo/license must be placed on your memberships page and linked back to my site in one week.
*If your membership has been terminated due to stealing, claiming as your own, sharing my content to others who are not members, etc.. any of my work that you have used in your members area, sigtags, websets, anything of this nature must be taken down immdiatley and deleted.
- I will allow my tubes to be used on live journal and my pixel forum, The Pixel Palace. These are the only social networking sites that I allow. You MAY NOT upload any of my pixels or sigtags to Facebook, Myspace, Tumblr, Email sharing groups, or any other social networking site of the like.

:: OUTLINES ::
*None of my outlines may be used AS IS after you tube them unless you have purchased an as is tube license with your membership. If you wish to sell them "as is" please ask me to purchase a special "as is" license from now on.
*Those of you who are owners of "as is" licenses you may continue to use them. I do not sell "as is" licenses anymore unless you ask.
*My original outlines must be credited back to me, even after you have tubed them.
*If you need to add or change something with my outlines or bases please contact me first before doing it so, I may or may not give you permission.
*You may not resell my outlines and claim them as your own as is outlines.
*If you wish to use my original outlines in another form rather than pixel art, such as stitching, embroidery, or anything of the like, you will need a special license for that. Please contact me in obtaining a special license for that use.

:: TUBES ::
*All pixels that have been tubed by me that you see inside the members area must be credited and linked back to my site.
*You are allowed to use the tubes inside my members area to create sigtags, blinkies, adoptions, websets, stats, etc...
*Do not claim my tubes as your own
*The tubes I make are for your personal use. You may not share them with anyone else or pass them around in your groups.
*You may use my tubes for free or personal use. You may make profit from them such as creating blinkies, sigtags, premades, websets, stats, etc...
*You may not add any graphics inside my members area to a CD and sell the CD for profit.
- You may not take tubes out of my members area and use them on products to sell in a zazzle or etsy store, or anything of the like.
*If you are a live journal user and have been given permission to use my tubes on LJ you must allow me to "friend/join" your community so I can be sure that my terms are being followed and respected. This is NOT to play pixel police in any way, I just need to make sure that my terms are being followed as well as terms from other site owners as well. If you wish to use them please continue to follow all terms from my site as well as others. All it takes is 1 person to ruin it for the rest!
*You may not recolor, resize or frakendoll my tubes.

:: SIGTAGS AND PREMADE ADOPTIONS ::
*Protective grid will be removed on all sigtags and premade adopts. when I send out your order.
*You cannot resell them or use them "as is" for download on your site or in your members area, unless specified otherwise.
*You cannot claim the work as your own.
*You cannot tear them apart to use in your own designs.
*Blank tags that are being offered here as linkware cannot be taken from my site, and then passed out to all your friends. That is strictly prohibited! Your friends may visit my site and collect the linkware on their own time.
*You may not take any of my blank linkware tags and add names to them to pass out in your groups/clubs. They are being provided here for YOU ONLY and for YOUR PERSONAL NAME ONLY!
»I'm sorry it has come to that, but 1 person has already ruined it for the rest of you!«
*You MUST HAVE A WEBSITE to adopt an adoption. No exceptions!
*You must include your url when adopting an adoption or purchasing sigtags.
*You must credit and link your adoption as well as the certificate back to my site.
*All sigtags must be credited and linked back to Country Pixel Paws
*If you purchase an adoption for your adoption shoppe, please send along my url to the ones adopting them so they know where the adoptions originally came from.

:: WEBSETS AND LAYOUTS ::
- My websets and layouts are created for MEMBERS ONLY or sold in my shop, and these are the only people who should be using my sets.
- All copyright links on the set must remain intact at all times.
- All scripts must be kept intact at all times.
- No changes are allowed to be made on my sets, this also includes the style sheets. If you need to change something, please email me and ask!
- You cannot hack apart any of my sets to create your own. This also include hacking apart the coding and the style sheets.
- You cannot take any web graphics from any of my sets and use them for other creations such as sigtags, adoptions, stationary, blog designs, etc. All web graphics should be used as such...on your personal WEB SPACE!
- You cannot take parts of my sets to mix and match with somone else's work. You are only allowed to mix and match the sets and the graphics that I created to go with any of my sets from my members area or shop.
- You cannot resell my sets or offer them to anyone else.
- If you cannot respect my terms above for my websets and layouts, I reserve the right to contact you and ask you to remove my set from your site. If you have any questions at all about any the sets, please do not hesitate to ask me!
:: LICENSE ::
*A tube license is now included with all memberships. The only other license you will ever need is a special license to be able to use my lineart in stitching, embroidery and other crafty things of the like.
*A tube license will allow you to color in my outlines and then sell them for profit and use them in your password protected members area.
*An as is license is for my lines only. This license will allow you to tube my originals and then sell them in your shoppe "as is."
*You cannot share your tube license. If you own a site with another person you each must purchase your own membership as well as your own license.

TOU Revised on: January 26, 2020

If you have any questions about anything at all, please do not hesitate to ask me! I would rather have you ask me a million questions than for you to think something is okay to do when it's not. I do not mind helping others and aswering any questions you may have.

Thank you for taking the time to read my TOU