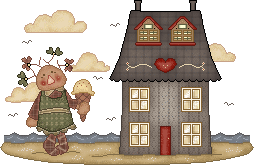 .:: ABOUT ME AND THIS WEBSITE ::.
Country Pixel Paws has and will always be a quality over quantity site. I will never chock my members area full of "as is" lines or tubes. I believe that the pixel community is too saturated with enough as is the way it is. I would much rather create my own things, with my own colors and styles so everything remains more exclusive to all of you! I like to go on pixel hunts through all my membership folders, and find something that I am licensed to shade and place in my members area that I may have not seen elsewhere, so that it gives all my members a new character to play with when they are designing their next project.
Country Pixel Paws was born March of 2017. This is not the first site that I've had. Most of you will remember me by other names such as Enchanted Hollows, Precious Little Pixels, and for a short while I had a dollie site called Dollie Delight. Upon my return after a few year hiatus, I decided to start fresh. I needed a new domain. No more subdomain! As much as I loved the name, Precious Little Pixels, I felt that I needed a new name, something that reflects me and my life a bit more. I am finally happy with Country Pixel Paws! Country Pixel Paws was put together because I am a born and raised country girl. I lived city life for almost 15 years until my husband and I moved out to our own property in the country side in November of 2016. I will always have a love for pixels..so of course that needed to be in there somewhere :-P Paws simply came to be for my love of my precious 6 little toy dogs. Yes, I have 6 furbabies! A chug, a pekingnese, a teddy bear chihuahua terrier and 3 chi/peke/terrier mixes. They are all very much loved, spoiled, and well taken care of. Some of my pack pups even help me on the farm with the ducks, they have been trained for that, and enjoy the purpose I have given them to help me. People think my husband and I are crazy, but we're not. We would not have our lives any other way. My home is always full of love and the pitter patter of puppy feet! They truly are my best friends, family members & life long companions ♥
My husband and I also raise ducks on our little farmette. We have Muscovys, appleyards, pekins, khaki campbells, welsh harlequins, and mallards this year. Next year I'd love to add some anconas, magpies, and maybe a pair of geese to our flock.
In May of 2017, my husband and I lost our beloved puggle, Rainee Rae. God called her home to puppy heaven. She lived to be almost 2 1/2 years old. At 6 months of age she was diagnosed with chronic (renal) kidney failure. In the end stages of this terrible disease, an acute attack happened and she made her journey over the rainbow bridge :( She is missed every single day. Not a day ever goes by where I dont think of her. I long to be reunited with her again someday. When she passed, she took a huge part of me with her. Rainee just wasn't a dog, she was my fur child. The most special dog my husband and I ever had. There will never be another quite like her.
Mommy misses you puggy girl :'(
These beautiful graphics below were made by my bestie, Orella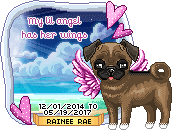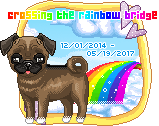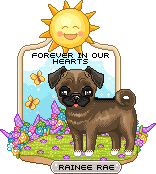 Back in July of 2011 Enchanted Hollows got site of the month!